1974 Angelica Wine from Heitz Cellar
Heitz Cellar Winery
"Truly an ambrosial drink fit for the gods"
---
You may find a few bottles for sale on the auction site
WineBid.com
up in Northern California
(Use Search "Angelica")
---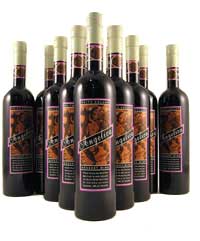 From Heitz Wine Cellars Newsletter Dated: 09/01/1991

Release of 1974 Angelica dessert wine.

Undoubtedly the best Angelica Heitz Cellars has ever offered.
It is a luscious sweet dessert wine made from the red mission grape variety.
The wine was then aged and mellowed seventeen years in oak before we bottled it this spring in an attractive elongated 750ml bottle with a special designed label.
Label description:
This 1974 vintage year Angelica dessert wine is made Mission grape variety, the same grape the early California missionaries used to make the highly respected original Angelica. Made in the tradition of its California heritage, we believe this is undoubtedly the best Angelica Heitz Cellars has ever offered.
A luscious dessert wine, sweet on the palate, complexed by time and mellowed by oak wood aging.
After 17 years of slowly aging in a cool stone cellar and then bottled in 1991, this flavorful amber colored wine is ready to enjoy.
May we offer you our cellar treasure Angelica, truly an ambrosial drink, fit for the gods.

Here is a copy of the Newsletter from 1991. (.pdf document)

Provided by: Heitz Cellar


The Label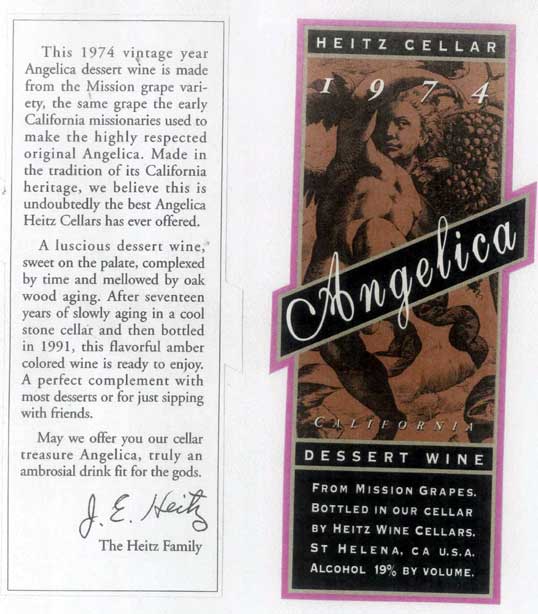 ---
Angelica wine is an historic sweet fortified wine usually from California made typically from the Mission grape. It is often served as a dessert wine.
Some varieties consist of the unfermented grape juice fortified with brandy or clear spirit immediately after pressing.
Others are made like port, where the only partially fermented wine, still retaining a large amount of sugar, is infused with brandy.
The relatively high alcohol of the brandy arrests the fermentation, leaving a fortified wine high in alcohol and high in residual sugar (usually about 10 to 15%). It is typically made from 50% Mission wine and 50% Mission brandy.
Angelica dates to the Mission period in California and it's name is thought to be taken from the city of Los Angeles.
It was produced by the Franciscan missionaries and is one of the first wines made in the state.
Article from: http://en.wikipedia.org/wiki/Angelica_wine
---
October 15, 2008

Could not resist...
This rare and hard to find 29 years old Angelica Wine is now even better then when first bottled.
I could give a long description of this incredible taste but I think they put it better on the bottle label description.
"Truly an ambrosial drink fit for the gods"
This wine is a 20+
---
Community Tasting Notes from CellarTracker.com

Tasted by lebo on 10/10/2009 & rated 97 points:
Fantastic wine - very much like a tawny port. Cola brown color with an amazing nose of honey, apple and figs. Palate sweet and viscous. Great balance and mouthfeel. Very sweet, but has enough acidity to balance it out.

Tasted by RossR on 5/11/2009 & rated 96 points:
Drinks like a soft aged tawny port without the kick of the added alcohol. Amazingly strong but velvety soft tannins offset a mild cloying sweetness and contribute to an overall wonderful balance. The finish goes on and on... with wonderful purple plum fruits following initial hints of bing cherry and and sweet apple butter that coats across the palate. Amazing orange / brown color. A truly unique wine.
---
There may be a few bottles of this 1974 Angelica for sale left on
WineBid.com
(Use Search "Angelica")